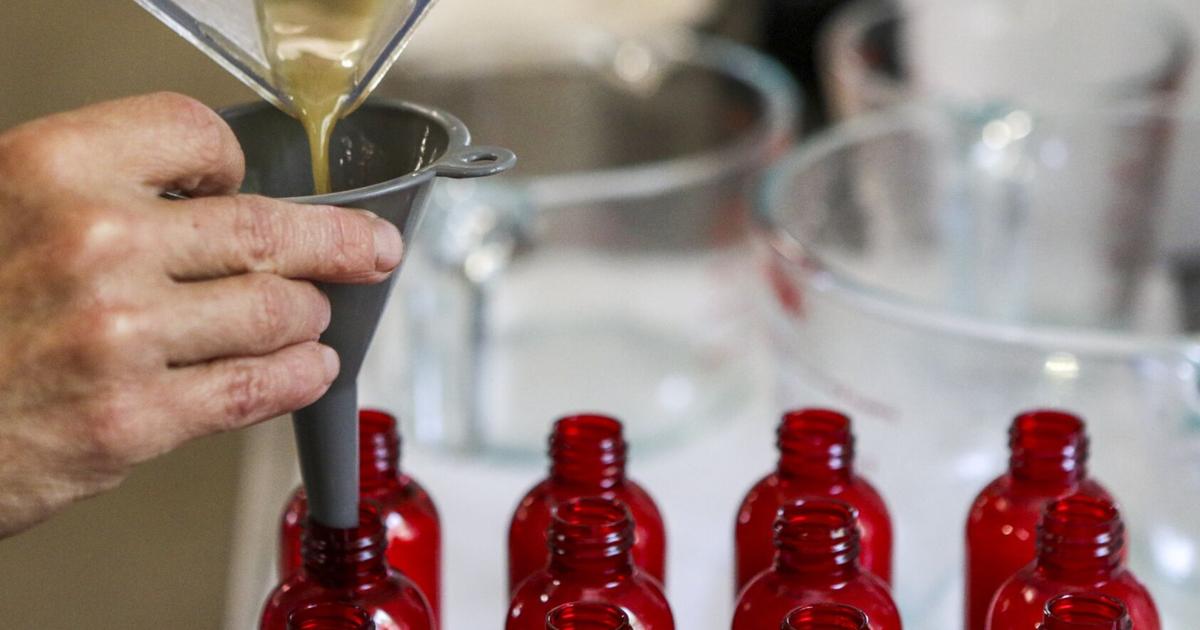 An Illinois couple discovered a herbal mosquito remedy. Now they are selling it. | Local company
BUNKER HILL — April Robbins couldn't understand.
"Summer came around, and we had no problem being outdoors. But we would go to town and come home covered in bug bites," Robbins said.
A little research revealed the answer: Robbins, 48, is a gardener. She grows an abundance of fragrant herbs, and some – like mint, lavender and lemon balm – are natural insect repellents.
From these happy coincidences, a company was born. With her husband Joe, 52, she runs Skitopel, which makes all-natural candles and insect repellents.
Skitopel – a mixture of "mosquito" and "repellent" – is now sold in 19 hardware stores, grocery stores and markets in central Illinois, from Mascoutah to Springfield, and the Robbins hope to enter the St. Louis market soon. They also sell their produce at farmers markets in Alton, Collinsville and Maryville.
And that puts them squarely in the middle of a national trend, said American Mosquito Control Association spokesman Dan Markowski. "We are seeing a lot more essential oils being used in mosquito control for repellents as well as for controlling them," he said.
The path to Skitopel began three years ago. The Robbins did it like a lark, using their own herbs to make candles for themselves, loved ones and friends.
It's an old entrepreneurial story: they gave away candles to friends and relatives who all suggested they sell them. They went into business the same year.
"Wax goes everywhere"
The Robbins create their product in an outbuilding of their home, at the end of a farm-lined driveway near Bunker Hill, Macoupin County. They built the addiction specifically for the company, after early efforts to manufacture their home's products led to predictable problems.
"You'd have wax all over the cabinets," Joe Robbins said.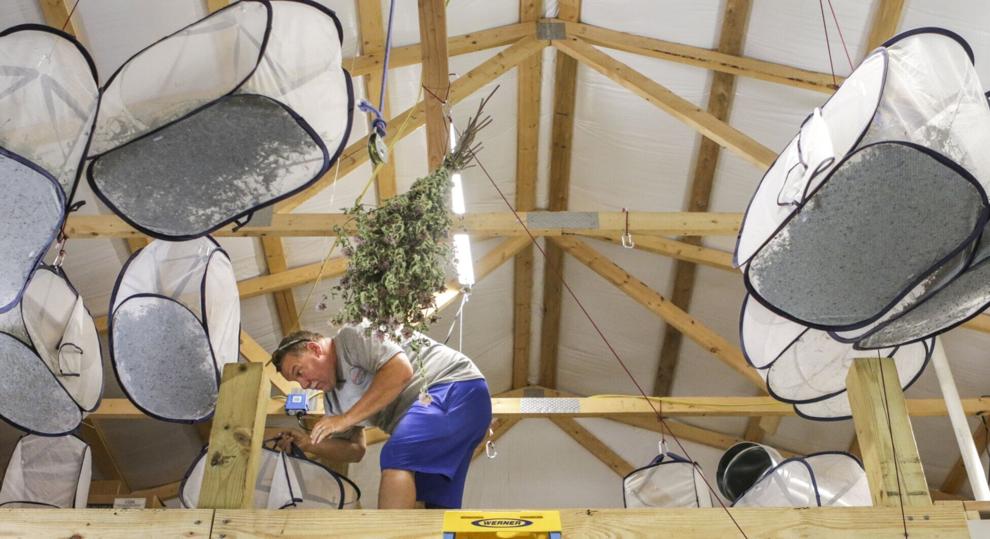 And the two children still living at home (they have three and a new grandchild) refused to go to the basement, where the couple were drying herbs. The aroma was too strong, they said.
Now the couple are drying the herbs, which they still grow in their garden, in plastic mesh baskets in the new building, hung high for better air circulation.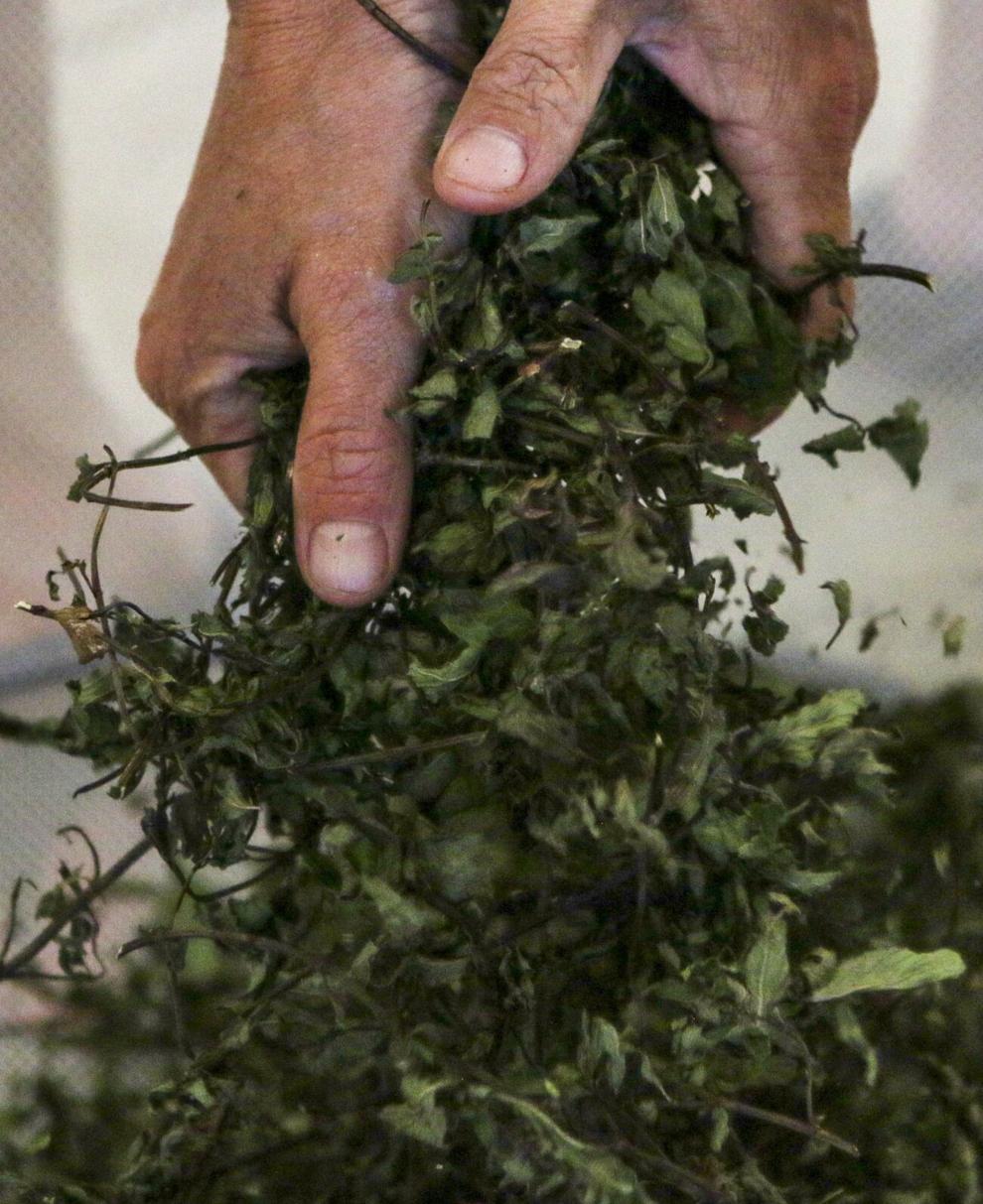 Once the herbs are dry, they grind them in small industrial grinders. They take the herbal powders, supplement them with commercially made herbal oils, and mix them with melted soy wax for candles and soy oil for sprays.
When they started making candles three years ago, the couple put the wax in metal pitchers that hold maybe half a gallon of liquid. They boiled water on their stove, placed the pitcher in the boiling water, then poured out each candle by hand.
Now they use wax melters, which look like iced tea dispensers, with a tap in the front. They currently have five of the devices, the smallest of which is the size and shape of a large slow cooker.
The candles, which come in 16-ounce and 20-ounce sizes, originally had a single wick. But too often they only burned around the wick, leaving a donut of insect repellent wax on the sides. Now they have two wicks, to burn the full candle.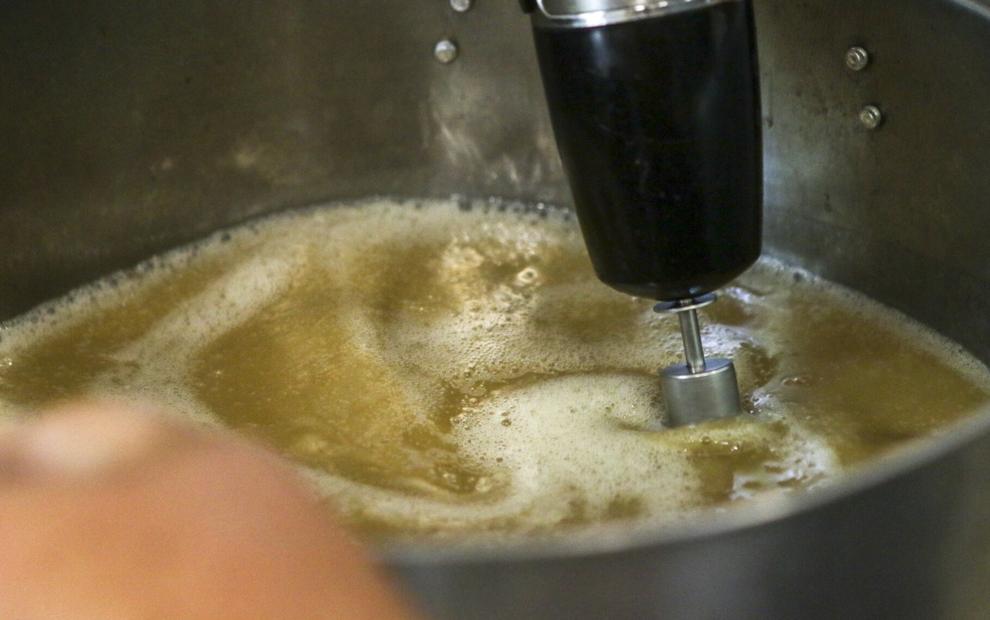 Creating the insect repellent spray was more a matter of trial and error. April Robbins said she is determined to keep their products all natural and organic. But two of the ingredients they wanted to use, witch hazel and lavender, must be registered with the Environmental Protection Agency to be included in insect repellents applied to the skin.
It can be a daunting task for a company to be licensed to use these ingredients. All told, it would cost the Robbins around $100,000 for the privilege, they said.
A leap of faith
Instead, they turned to a list of ingredients specifically exempt from EPA regulation. Among them is mint, so it is the active ingredient in their insect repellent.
But some people don't like the smell of mint, so friends asked them to create a lemon scented spray as well. The active ingredient is still mint, but the lemon flavor — courtesy of a fragrance company — is dominant. And it's still natural.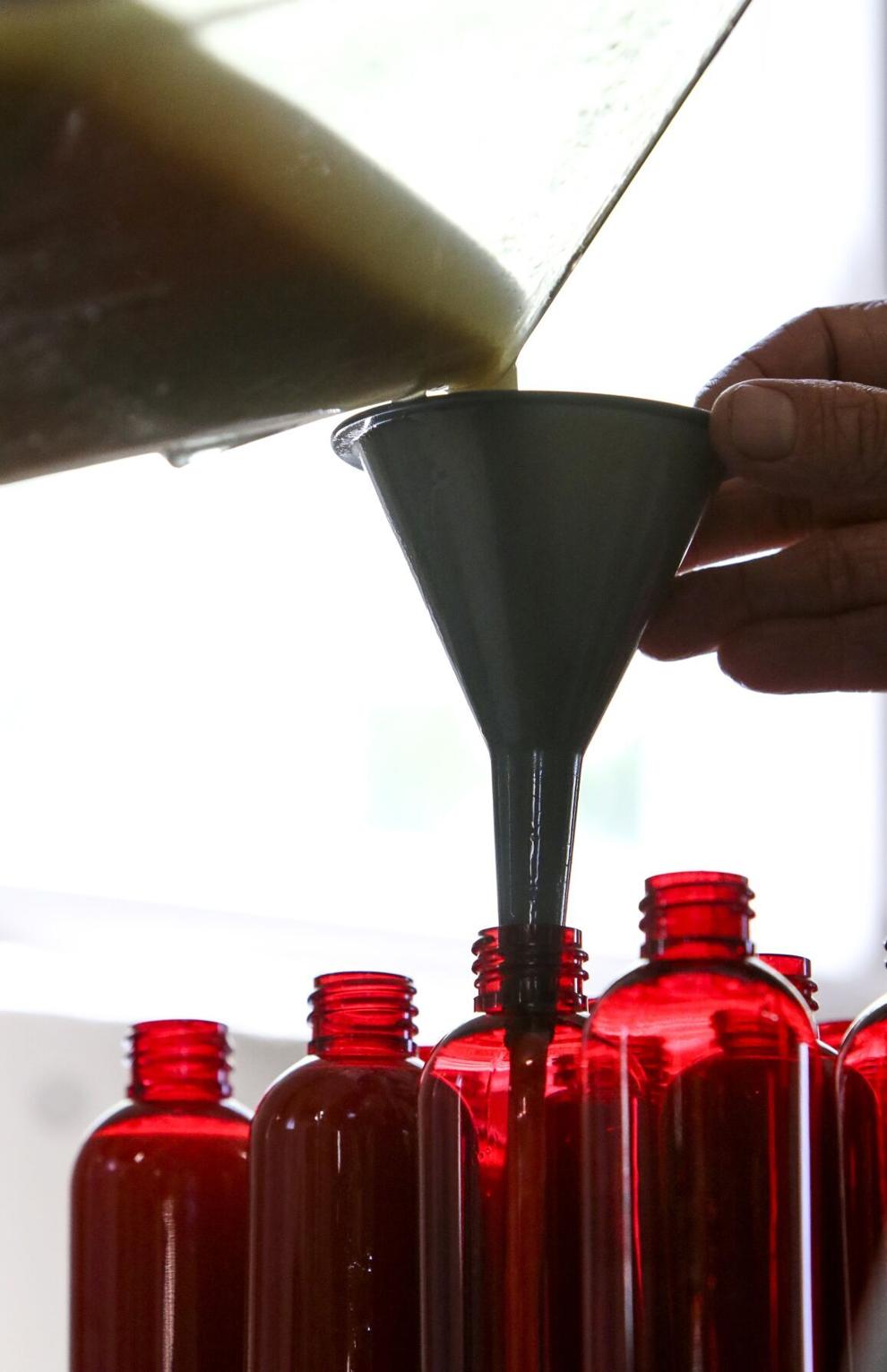 But do all-natural products work?
"The actual amount of effectiveness varies from product to product," said Markowski, spokesperson for the American Mosquito Control Association.
The Robbins say their sterilization is 100% effective for two hours, keeping all mosquitoes away during that time. A lab in Texas confirmed this, they said, although they had to tweak their formula several times before getting the desired results.
Last year, April Robbins quit her day job to work full-time at the company. For the previous 25 years, she had worked as an accountant.
"I was tired of being in an office. I love being outdoors. I want to be outdoors. I took a leap of faith," she said.
Joe Robbins still works as a wholesale plumbing and HVAC salesman, but he helps out when he can.
Insect repellents cost $7.99 for four ounces or $10.35 for eight ounces; candles are $14.95 for 16 ounces or $18.95 for 20 ounces, up to skitopel.org. Prices are similar in shops and markets in the area.
This is skitopel.org instead of skitopel.com because the dot-com address was already claimed by someone who wanted to sell it. The Robbins didn't take the bait.
So far, the gamble of starting their own business is paying off, at least in a modest way.
"We're not going to do any gangbusters yet," Joe Robbins said, "but we're not doing any harm."