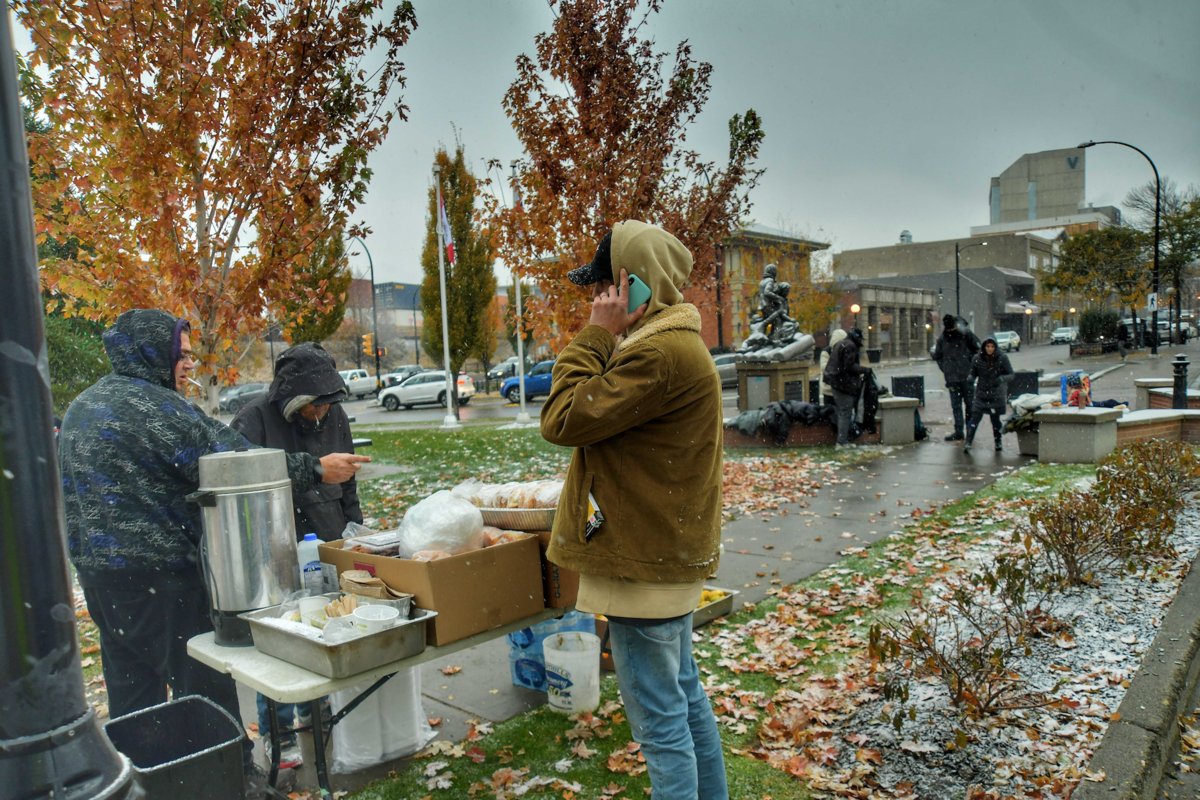 BC Housing says it understands 'immediate need' for shelters
BC Housing said it plans to announce new operators for its two winter shelters in downtown Kamloops soon, but the locations will remain closed through the weekend.
BC Housing said it plans to announce new operators for its two winter shelters in downtown Kamloops soon, but the locations will remain closed through the weekend.
Winter arrived in Kamloops on Thursday, two days after the municipality failed to meet City Council's goal to open winter shelters at the former Stuart Wood Elementary Yacht Club and Lorne Street, with snow and freezing temperatures descending on the city.
Environment Canada is forecasting a mix of rain and snow this weekend, with lows around freezing, before plunging to -9C on Monday evening.
The local chapter of the Canadian Mental Health Association was to operate two winter shelters in Kamloops this year, but pulled out in mid-October.
The Loop reception center chose to open on Thursday night and welcomed 25 people, aged 19 to 79. Social agency volunteers from groups such as The Loop and ASK Wellness were outside City Hall earlier Thursday afternoon as the snow blew in, serving food and trying to facilitate accommodation for the people camping in area of ​​Overlanders statue and picnic tables.
Loop organizer Glenn Hilke told KTW he wasn't sure the organization would be able to continue operating an overnight shelter and was soliciting donations in a bid to pay people to run installation as shelter during the weekend.
"It would be totally doable if we had funding," Hilke said, adding that they needed about $1,500 to pay staff over the weekend. Hilke said anyone wishing to donate to the effort can send an electronic forwarding email to [email protected]
BC Housing communications director Laura Mathews said KTW shelter operators for Kamloops sites are about to confirm and a media announcement will follow.
"It's increasingly dangerous for anyone to sleep outdoors as temperatures in Kamloops continue to drop," Mathews said. "We understand the immediate need to open new indoor shelter spaces and are working as quickly as possible to get sites up and running safely, as it is difficult to find a shelter operator with the capabilities and a qualified personnel to support this vulnerable population.
Mathews noted that BC Housing got the sites and the funding, but the delay was finding experienced operators who could take over the sites.
In response to cold temperatures expected next week, ASK Wellness on Friday announced the opening of two warming stations at its Crossroads Inn building at 569 Seymour St. and at Spero House, located at 317 Tranquille Road next week.
The stations will be open Monday (November 7) to Friday (November 11) and will operate 24 hours a day, subject to sufficient staff being available, the nonprofit organization said in a press release. Donations of winter clothing and blankets are requested and can be dropped off at the Warming Station or the ASK Wellness Center at 433 Tranquille Road.
The loop opened overnight for about three weeks last winter during a cold snap towards the end of the year. Hilke said they were able to secure a provincial health services grant, which they will reapply for, but which is not available at this time. He said he intended to contact BC Housing to seek possible emergency funding.
For more information on where to find indoor shelter spaces currently operating in Kamloops, BC Housing advises people to check out its shelter map: Home page – BcHousing Shelter.
KTW has contacted the city for comment.
SOCIAL AGENCIES TALK
On Friday, a group of social organizations in the Kamloops and Okanagan regions released an open letter to mayors and councils, BC Housing and Interior Health, calling for change and action on issues of homelessness and winter shelters.
The letter is signed by the Kamloops Chapter of ASK Wellness, the Nicola Valley Shelter and Support Society, the John Howard Society of Okanagan & Kootenay, the Kelowna Gospel Mission, the Penticton and District Society for Community Living and the Turning Points Collaborative Society .
In the letter, the social agencies said the temporary winter shelter model is: underfunded, worker exhausting and aimless to solve the permanent housing need of the homeless.
"We are tired of the futility of winter carpet shelters," the letter read. "We are tired of seeing no meaningful results to the cycle of indoor cold winter shelters and outdoor summer tents."
He also noted an absence of Interior Health to meet this part of the public's medical needs and hand over this responsibility to shelter operators, while providing no funding to hire qualified staff. Other challenges include: the labor shortage in British Columbia and the significant training of staff to work with people in temporary shelters who often have complex health conditions, requiring a significant financial investment that does not make economic sense for nonprofits.
Recommendations include using hotels and motels to house the homeless over the winter, providing rent subsidies, investing in shelter diversion programs and shelter support workers and for IH to provide funding to operators for health-related positions in shelters.