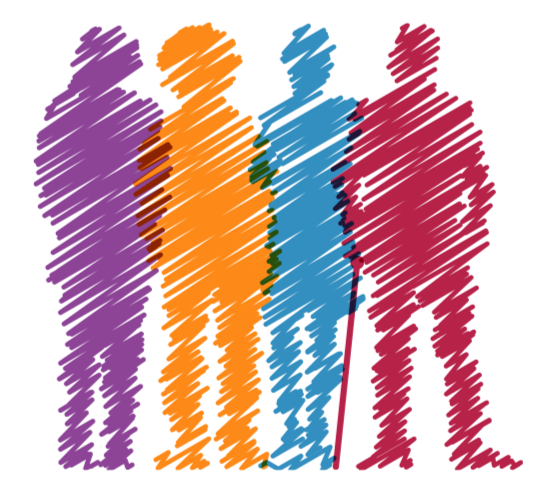 Breaking down barriers: how accessible is it to work as a disabled person in the charitable sector?
The charitable sector claims to be at the forefront of inclusion and diversity, but how accessible is it really for people with disabilities?
_____________________________________________________________________
Recent figures from the Department for Digital, Culture, Media and Sport (DCMS) showed that in 2021,
workers with disabilities in charities earn "significantly less" than their counterparts. For every pound earned by a male worker, disabled charity staff earn 87p. Women earn 86p.
The same figures also showed that a fifth of roles in the charity sector are filled by a person with a disability. But if you're part of that 20.6%, what is it really?
For the people we spoke to, it was mixed. Often, charities whose services support people with disabilities are better able to employ staff with disabilities, with processes in place to make the recruitment process more accessible and suitable workspaces for those who need it. For other charities, it can almost feel like a lottery.
"Negative attitudes towards people with disabilities are widespread across all sectors," says Fazilet Hadi, policy officer at Disability Rights UK. "Incorrect assumptions, low expectations and biases are all too common."
Disabled people in the industry know this all too well. About five years ago, freelance communications professional Francesca Baker was offered a communications position with a charity. While waiting for the contract to be concluded, she informed the organization that she would need a few hours off a week for therapy, which she would then make up. Four hours later, the offer was revoked because the charity was being restructured.
Baker says at the time she said nothing. "Now I would be braver and speak up. I was quite surprised and it's a shame because it was something in my corporate jobs before that was quite easy.
Covid-19 has now required greater flexibility, and Baker acknowledges that some things have changed since the pandemic, but believes charities should be held accountable. Hadi adds, "For office staff, the pandemic has opened up flexible and remote working opportunities. Some people with disabilities have found this change very positive as it allows them to better balance work with fluctuating health conditions or energy limitations. It also removes or reduces some very difficult and stressful commuting to work.
Similarly, Sophia Kleanthous, a disability rights activist has worked in the sector before and recently launched the @CharitySoAbled Twitter account, which aims to encourage individuals across the sector to share their experiences.
About seven years ago, Kleanthous began working in campaign and political roles, and when applying for these, she was often asked to declare any disabilities. "I started noticing that when I declared my disability, I didn't get interviews, and when I didn't declare my disability, I got an interview," she explains.
She also found that recruiters were reluctant to give details as soon as she mentioned accessibility needs or part-time work.
A 2022 survey by recruitment consultancy Prospectus found that 38% of its respondents said they had a disability, with 30% revealing they hadn't told their employer. Almost a quarter said they did not know of anyone with a disability in their organization.
A positive example
But that's not so bad – there are charities that provide an accessible workplace for their employees.
Zara Borji Pour is employed by FoodCycle as a Project Support Officer, transitioning from volunteer to her current role. She suffers from spina bifida, which affects her mobility and requires her to use a wheelchair.
"This is my first job in the charity sector and I feel [FoodCycle] was very understanding and accommodating to my needs," she says.
She thinks overall there could be more representation within the industry, but FoodCycle has made an effort to be more inclusive. "A lot of effort has gone into recruiting volunteers with disabilities and it's great to see the influx of volunteers with disabilities.
Meanwhile, Mencap is one of the charities setting an example for others in the sector, employing over 200 people with learning disabilities. Ismail Kaji is the charity's Parliamentary Affairs Support Officer and co-clerk of the All-Party Parliamentary Group on Learning Disabilities. He also has a learning disability, whereby communication
can be tricky, especially if complicated sentences and jargon are included.
In his role, Mencap provides the support he needs to do his job effectively, such as reviewing his assignments, reading text aloud, and assisting with meetings when needed. Like Borji Pour, Kaji has not worked for another charity but has held different positions within the organization and praises the charity's commitment to people with accessibility needs.
A changing environment
So what can other charities do to encourage more inclusive recruitment processes and make workplaces more accessible to staff with disabilities?
Recently, Guide Dogs made a commitment to address 'disabling' work environments for its visually impaired staff. He admitted that his "constructed and digital environments, processes and culture have and can be disabling" for some visually impaired members of his team.
Its Diversity, Equity and Inclusion Strategy for 2022 stated: "Guide Dogs recognizes the value of visually impaired staff in shaping the organization. Basically we recognize
that their experience of working here has not always been positive".
A mandatory training program for staff on visual impairment must be put in place, with refresher sessions every six months. "We will equip them with awareness so that they always consider the intent and impact of their actions," the charity added.
Guide Dogs is also committed to improving diversity by reviewing and updating unconscious bias training and striving to "celebrate the range of lived experiences" of its colleagues and volunteers. This includes "ensuring that underrepresented and often excluded voices are amplified".
But an accessible workplace starts at the recruitment stage. Kleanthous had to ask for additional time for app testing and thinks things like this should be offered immediately; whether it is requesting the application form in a different scale or having the interview questions in advance.
"They may seem like an advantage, but they actually put the disabled person on the same level as someone who is not disabled," she says. "I think a lot of people are afraid to offer accessibility, but it works for everyone and it can improve work and your change in job success."
Giving accessibility support at the recruitment stage, argues Kleanthous, also shows that the organization is willing to show applicants with disabilities that they will not face discrimination. Having a disability group and disability rights advocates can go a long way towards this, she adds.
The recruitment process and the way it is framed are also essential.
At Mencap, Kaji was able to demonstrate his skills in an interview instead of just talking about them, and a panel evaluates the candidate, asking him what he knows about learning disabilities and other similar issues.
"Recruitment processes can be very formulaic, often including a wordy advertisement, lengthy
statements and an interview with set questions," says Hadi. "It often benefits people who are comfortable and used to this system.
Job postings need to be clearly written and disseminated more widely among underrepresented groups. Assessments should be more flexible and designed to allow the candidate to share their skills and abilities. »
Borji Pour agrees that job descriptions should clearly state that anyone is welcome to apply for the position. "Let them express their abilities and limitations and don't let any misconceptions cloud your judgment about whether a candidate is suitable for the job."
Hadi concludes: "Asking if people have specific needs or need help should be part of regular review and evaluation meetings. Many people with disabilities or long-term health conditions may not identify as disabled, and discussing the need for accommodations would send a strong signal that the organization wants to support, not exclude, people with disabilities .