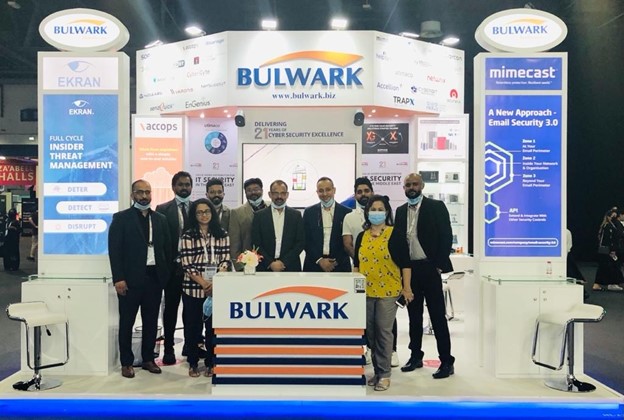 Bulwark will present a complete offer of IT security products and services at GISEC 2022
Dubai, February 15, 2022: With an intense focus on boosting the IT security, communications and technology industries in the Middle East region, UAE-based Bulwark Technologies, one of the pioneering value-added distributor specializing in the IT cybersecurity, offers an internationally acclaimed product line for display at the Gulf Information Security Exhibition and Conference (GISEC) 2022.
Getting ready for the mega-event, the company reiterated the importance of building a strong and integrated security infrastructure in the region and also predicted the market requirement and introduced suitable technologies at the right time.
Located in Hall 6, Booth C-49, Bulwark will showcase its end-to-end security solutions and customer-centric distribution strategies during the show.
The pioneering value-added distributor would partner with its strong portfolio of specialist cybersecurity vendors for GISEC 2022.
The company will offer the latest technologies and new product launches covering digital risk protection, hardware security modules, encryption, Smart ID/PKI solutions, web application vulnerability scanner, data classification, data loss prevention, secure managed file transfer, encrypted flash drives and disks. Drives, Email Security & Archival, PIM/PAM, Secure Remote Access/Workspace Virtualization, Insider Threat Prevention, Employee Monitoring, Enterprise Mobile Management solutions, Cyber ​​Skills Development/Formation platform, SIEM in addition to their other security technologies present at the event.
"Bulwark, being a cybersecurity-focused VAD operating for over two decades, GISEC is an excellent platform to showcase our product portfolio to targeted partners and customers in the region. With the region's huge demand for cybersecurity, we look forward to receiving excellent and evocative responses from our vendors, partners and customers at the event," said Mr. Jose Thomas Menacherry, Managing Director of Bulwark. Adding value has been at the very heart of Bulwark's operations since its inception in 1999, growing the business from strength to strength. Bulwark today has an established network of over 500 dealers across the UAE, Saudi Arabia, Qatar, Oman, Bahrain, Kuwait, Jordan, Egypt, Lebanon and others ME countries and the Indian subcontinent region. The company recently opened its "Bulwark Saudi" office in Riyadh to provide better services to partners and customers in Saudi Arabia.
Over the years, Bulwark has entered into timely strategic partnerships with leading global IT innovators, resulting in the wide range of security offerings offered by the company today. Home to over twenty-five brands, Bulwark has established an excellent track record of delivering world-class products and excellent customer service.
The award-winning VAD is currently celebrating twenty-two years of cybersecurity excellence in the region.