"Everything should be one GAA"
Galway camogie star Sarah Dervan believes a merger between the GAA, LGFA and Camogie Association will lead to greater equality between all codes and eliminate a situation where some teams have to train under conditions far from ideal.
Next Saturday, the reigning All-Ireland champions begin their league campaign against Dublin. In anticipation of this, the team will train on the astroturf. Although Dervan is grateful that the training can take place in the spotlight, it is still far from satisfactory.
Speaking at the launch of the new Irish brand of protein biscuits 'In the Zone', a partnership between GAA and GPA, she said: "Tonight we are training on astroturf as we cannot have of field facilities lit. So It's a real struggle for us. We've been training a lot on astro this year so far and we're grateful to have it, but it's not ideal .
"We play Dublin on Saturday so it's not ideal preparation for the first round of the league. That's always been the case unfortunately. The fact that we rely on the kindness of clubs to give us their facilities, it doesn't isn't too bad in the summer but above all it's very dark in the evening, you have to train and have a well-lit area.
"You just accept it and I think that's pretty brutal to say. You want to train in the best facilities. You want to be in the same places as men's hurling and football in Galway. Unfortunately we're not at minute and it's not ideal preparation for the Dublin game but we accept it, and I guess it's a scary thing."
On the difficulties posed by the astroturf surface, the two-time All-Ireland winning captain added: "You're a lot reduced with what you can do on the astroturf. You can do a bit of ball work , speed work. You would like I don't really do much about your fitness on that because if you're a bit older than me it weighs on you, but unfortunately that's how it is.
"I hope this merger will happen as soon as possible and that all parties will be under one roof.
"It will be huge for the Ladies Football and Camogie Association to be linked with the GAA. It will be a huge positive."
The word Dervan insisted on was "equality".
She continued: "For kids coming into the world today, it doesn't matter if you play hurling, camogie or women's football. Ultimately everything should be one GAA and they have the same chances that their male counterparts have.
"There are four codes here today when In The Zone launches, we're all seen as equals and that's thanks to the merging of GPA and WGPA and becoming the one brand.
"Everything should be equal.
"The senior squads for Galway pitchers, camogie, male and female footballers would all be equal and we would all get a fair share of facilities, funding, everything.
"It's the only way forward and all it can do is provide positives, especially for young girls who are starting to play camogie, that they don't have that fracture. That we we're all one umbrella, one family and it shouldn't matter, you have the same opportunities as everyone else."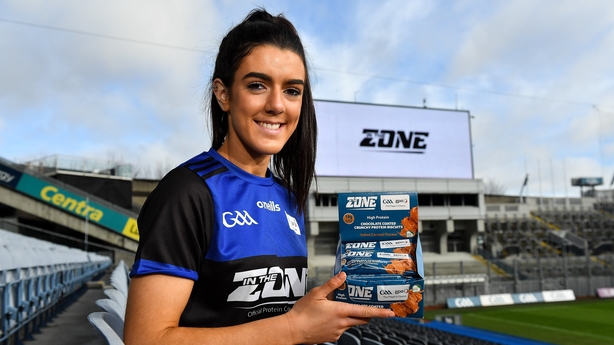 Cork footballer Erika O'Shea was also present at the launch.
She was equally passionate about the merger project and access to fields and gymnasiums.
"Personally, it's something (the merger) that should be done. I'd like to see equality for all. While talking to Sarah, we discussed why we've always had issues with the pitches and the time in the gym I feel like guys don't I remember when we were training in the minors and we actually won the All Ireland that year we couldn't find any ground we we were training on the side of a pitch.
"We were running on the side of a pitch. This stuff is discouraging. A merger would make such a big difference. It would be good for women in sport and would keep a lot of girls involved.
"All of my teammates want to see the merger happen. It would change everything for girls in sport. The WGPA and GAA joined and it made a big difference."