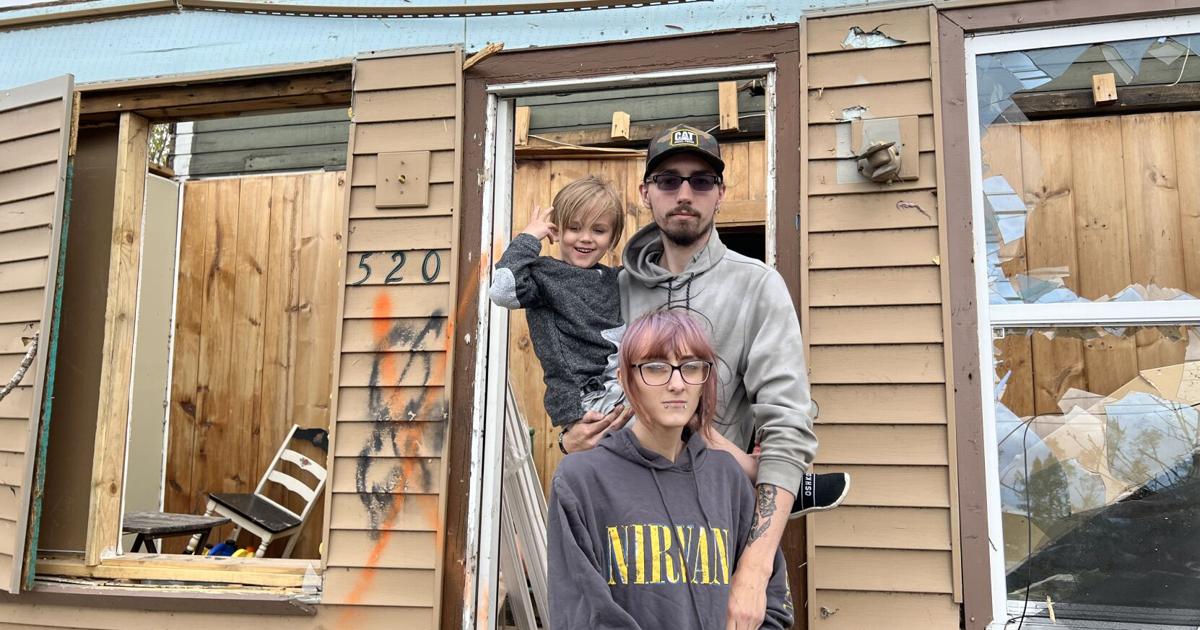 'It could have been much worse': Gaylord officials praise wireless alert system | New
GAYLORD — The skies were pitch black as Kaylee Schoolcraft and her husband Brandon Schuett heard the emergency alert blaring from their car's Bluetooth speakers.
In less than eight minutes, an EF-3 tornado would pass through their home on the south side of Gaylord.
Schuett sped down the street and into the driveway of the duplex he and Schoolcraft share with his uncle. Their 3-year-old son, Leo, was sitting in the back seat, still figuring out what was going on.
About five minutes from the end, Schoolcraft took Leo to the other side of the duplex while Schuett picked up their three dogs.
"I came back and could see the tornado over Dollar General across the street," Schuett said. "I started yelling at my wife to 'get out, we have to go to the basement now'."
With seconds to spare, each person and each dog huddled together in the dark little cellar on Schuett's uncle's side of the duplex.
"Within 20 seconds the tornado hit and we felt the vibration. You could feel the suction…you could just feel the pressure kinda like when your ears pop," Schuett said.
It only took about a minute for the tornado to destroy the duplex.
As the family emerged from the basement, 3-year-old Leo hugged his mother.
"All he kept saying to me while I was holding him was, 'Mum, you're not dead, mum, you're not dead,'" Schoolcraft said.
The family is grateful for their lives, but the damage to their home and property was immeasurable.
Furniture and appliances were destroyed along with unique items like Schuett's collection of horror memorabilia. But the worst loss of all was a keepsake shelf for the couple's baby they lost at birth last year.
"I lost a lot of his items besides his urn – that's the only thing we could find," Schoolcraft said. "We lost everything else."
Both wondered what they could have saved in a few more minutes and how they could have been notified sooner. Both wondered if the tornado sirens would have given the warning they needed.
But Otsego County does not use tornado sirens. Instead, County Emergency Manager Jon Deming said residents can sign up for CodeRed Emergency Alerts — a service of OnSolve LLC.
Like an Amber Alert, the CodeRed system sends a message characterized by a high-pitched ringing that appears on all phones in a given area.
Other Northern Michigan Counties such as Grand Traverse, Montmorency and Près Isle rely on similar systems. Others, like Alpena and Alcona, kept their sirens.
Deming said CodeRed can send the most information to a large number of people, unlike tornado sirens which can often be too quiet or too far away to alert people inside.
"I don't think you could miss getting a (CodeRed) alert. Even if you had headphones on, it's going to blow your ears out," Deming said.
At one time Otsego County had a siren system outside of the fire department, but it was not a designated tornado siren. This unit was also decommissioned about 15 years ago.
For years, the CodeRed system has been the go-to alert system for the county office.
"We're in an electronic world and everyone has their electronics around," Deming said.
However, the system has its flaws. It requires residents to manually register online. Deming said about 8,000 people in Otsego are registered – less than a third of the county's total population.
But even without the CodeRed system, residents were still alerted electronically through the National Weather Service and the Wireless Electronic Alert (WEA) system launched in 2012 and managed by the Federal Communications Commission.
It has been used over 70,000 times to warn the public of dangerous weather conditions, missing children and other critical situations.
National Weather Service meteorologist Dan Cornish worked at the warning office on May 20 and was the one who issued the warning to residents of Gaylord.
Before making the call, he noticed big changes in wind direction and speed.
"It's a sign that you're starting to get rotation," Cornish said. "For us warning operators, this is definitely a signal that there could be an impending tornado."
Unlike CodeRed, Residents do not need to register to use WEA. Wireless companies like Verizon or AT&T volunteer to participate, creating a public-private partnership.
But according to Sabrina Jauernic, another meteorologist at the Gaylord station, this system also has pitfalls.
"If people want to be sure they are getting WEA alerts on their smartphone, they need to have phones newer than 2012 and actually receiving service from a nearby cell tower," she said. .
Then there are other "what if" scenarios with electronic communication. What if someone doesn't have a phone? What if they are isolated or unconscious?
There's no perfect way to alert people to emergencies, Jauernic said. There can always be that group of people who don't get the message in time.
In this case, Jauernic said it's up to people to look out for each other and make sure their neighbors have enough warning to protect themselves or their property.
"The younger generation can go to their grandparents and say, 'Hey, look what I have on my phone, we might have to do something about it. Vice versa – those who watch TV and radio live have to pick up any phone they have and get in touch with their loved ones," Jauernic said. "We really have to rely on each other."
Deming said the CodeRed and WEA systems have saved lives. Not only would the tornado sirens have suffered their own flaws, he said installing a new system was unfeasible for the county. He estimates that tornado sirens cost between $30,000 and $60,000 per unit.
"Some things are out of our control, but we try to keep things under our control. It's so tragic, we lost two lives because of it, and we still hurt people, but it could have been so much worse.
His team has two upcoming sessions to evaluate the county's action plan, including the effectiveness of the CodeRed system.
A friend of Brandon Schuett and Kaylee Schoolcraft put together a GoFundMe page in hopes of raising funds for a new home. They currently live with Schuett's grandparents.