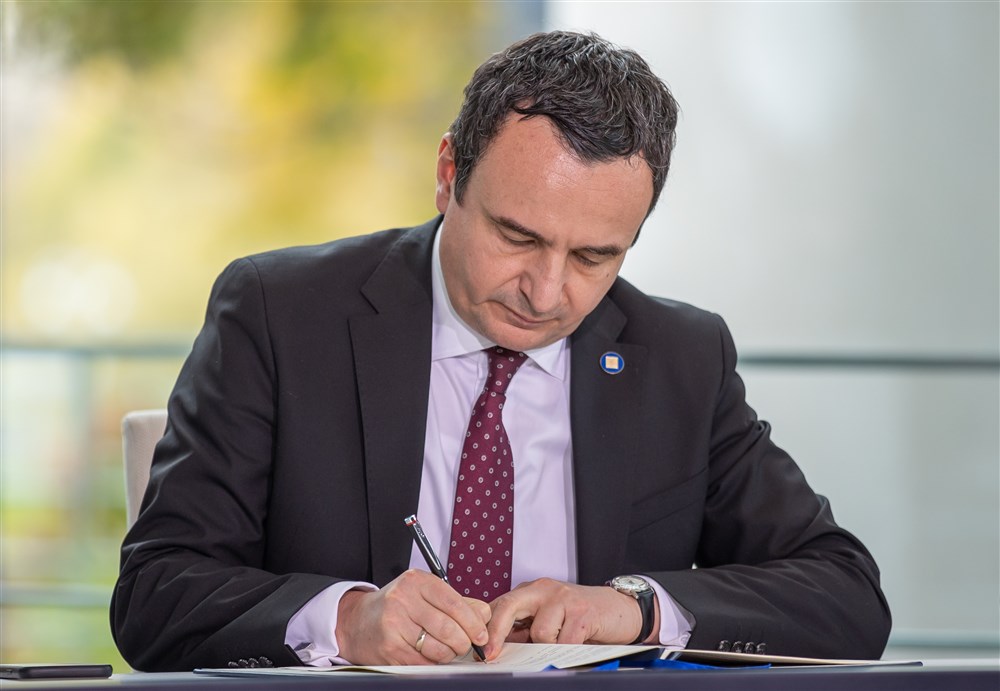 Kurti hails Franco-German plan, says Serbia wants to sabotage it
The Prime Minister said he did not oppose the Franco-German proposal for dialogue between Kosovo and Serbia, but accused Belgrade of stoking tensions in Kosovo to sink the plan.
Prime Minister Albin Kurti said on Wednesday that Serbia is destabilizing the North because Serbian President Aleksander Vucic has rejected the Franco-German plan for Kosovo and is using illegal structures in the North to destabilize the country.
"Belgrade rejected the Franco-German plan and is now making a drama to hide the rejection," he stressed.
Kurti said Kosovo sees the Franco-German plan as a step in the right direction.
The proposal was raised on October 8 by Serbian Vucic, who called it unacceptable. "Serbia is asked to allow Kosovo to join all international institutions and organizations, including the United Nations. For this, Serbia would be guaranteed quick EU membership, and possibly other great economic benefits," Vucic said.
Kosovo Assembly Speaker Glauk Konjufca said on Tuesday that the plan was basically a good solution for Kosovo-Serbia relations.
Its existence was mentioned in Berlin on November 3 by the German Chancellor, Olaf Scholz, and the President of the European Commission, Ursula von der Leyen. Von der Leyen confirmed that this plan is now integrated into the wider dialogue process.
The European Union Wednesday told BIRN he had collected responses from Kosovo and Serbia on the proposal.
EU foreign and security policy spokesman Peter Stano said the EU was already considering both sides' positions on the proposal.
"The EU, supported by France and Germany, has presented a proposal to the parties to make concrete and irreversible progress towards the overall normalization of their relations. We have already received responses from both sides and are reviewing them," Stano said.
Meanwhile, US special envoy for the Western Balkans, Gabriel Escobar, also gave his backing to the proposal, stressing that it should be taken seriously.
EURACTIV Wednesday leaked a document from the plan pointing out that he had obtained it from a reliable source.
This project, according to EURACTIV, focuses on normalizing relations with a view to a common future of the EU, the most critical element being the exchange of permanent missions, similar to embassies, but at a lower level.
The mediation dialogue between Kosovo and Serbia started in 2011. Since then, several agreements have been signed but some of them have not been implemented.
So far, the most disputed agreement concerns the creation of an association of Serbian-majority municipalities, signed in 2013.
Prime Minister Kurti said that Kosovo is against the formation of such a single ethnic association. Serbia, on the other hand, insists that the association be incorporated and have executive powers.