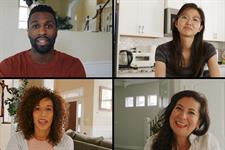 New workers may struggle with remote communication – but it doesn't have to be that way
Lockdowns during the coronavirus pandemic have made working from home a necessity. Today, in the post-Covid world, business leaders are faced with tough decisions. Should remote work continue and to what extent should employees be expected to return to the office?
These dilemmas have ramifications for young workers in particular, for whom the pandemic has been their only job experience. Think back to when you were first learning to navigate the politics, culture, and norms of working life, with no previous experiences to compare your situation to. Now imagine experiencing the same in a hastily created home office, connecting with superiors and colleagues exclusively or primarily through a computer screen.
As social distancing restrictions were eased in Britain, Rishi Sunak, Britain's Chancellor of the Exchequer, warned people just starting out in their careers that their prospects could be damaged by remote working. His comments sparked debate and a bit of controversy in the business community, but we know that workplace learning is affected by working from home and that physical office environments are valuable resources for young employees. .
Since June 2020, I have been working with colleagues on a project to understand the barriers and opportunities students face when undertaking 9-12 month paid internships involving remote or hybrid work. Our findings include evidence from interviews with 25 trainees as well as analysis of questionnaires and essays written by 182 trainees.
Of course, we received a wide range of responses. Some expressed very favorable experiences with remote work, others would have hated it, and many had a more moderate view incorporating both positives and negatives.
The challenges that most interns face, specifically relating to being new to the job market, can be condensed into four key areas: impact on learning in the workplace, isolation from the rest of the workforce, communication and networking challenges, and the increased importance of being proactive .
Overall, interns reported being well prepared to tackle the tasks of their jobs from employers. They felt that it took much longer to learn. On average, participants spent around 15% of their overall internship in the same physical space as their colleagues, with most interactions taking place via "online quick chats".
Some thought it hindered their ability to "learn by osmosis," which a physical office environment allowed them, where they could pick up snippets of information from their co-workers. Difficulties were also reported when it came to figuring out how their day-to-day work fit in with the rest of the company, and figuring out who held senior positions and how to formally address them.
Additionally, employees spoke of the challenge of feeling engaged with an organization with which they interacted entirely, or almost entirely, online. They struggled to feel like they were part of the company and were often reluctant to reach out to co-workers, not wanting to be viewed as needy or wasters of time. This led to misunderstandings with superiors, for example, who expressed annoyance at not being kept informed by interns of their daily plans. From the interns' perspective, they were showing respect to their employers by trying to present themselves as capable, intelligent and independent workers.
Long-distance communication issues, such as having fewer social cues and engaging primarily in task-related conversations, also caused trainees to perceive networking as more difficult in a workforce. remote work than face to face.
Being proactive has therefore become of paramount importance both in learning the ins and outs of a workforce's practices, behaviors and culture, and in connecting with peers and superiors who could act as mentors.
However, none of these challenges are insurmountable. Managers and business leaders need to think about how newcomers will learn how their role fits into the wider business and find ways to help them meet other people. Consider "anchor days" and hybrid working models to encourage employees starting their careers to meet and learn from a variety of people.
Pairing interns with a more experienced co-worker can help them acclimate quickly to workplace behaviors and culture. Buddy programs can also provide new hires with advice on how to improve their visibility without seeming too demanding, and provide someone they feel comfortable asking "silly" questions.
New hires often need help developing techniques for broaching uncomfortable topics with co-workers, so provide them with strategies and be vigilant for workplace conflict, which can easily go unnoticed when managers don't care. connect with their staff only by having quick online catch-ups. .
It is important to teach new employees the expected etiquette when using different forms of communication and to encourage them to have informal conversations. While not directly promoting task completion, informal interactions build bonds between co-workers and commitment to the organization – some newcomers did not appreciate the value of this.
Finally, be careful not to overdo it. The flexibility offered by a hybrid work arrangement is invaluable for employees at all career stages, and mandating office work can be counterproductive to your culture. Also, forcing interns to stay in the office all day will only benefit them if others are also in the office.
Early-career employees are perfectly capable of developing the skills and commitment needed for a bright future, but it's important to be aware of these challenges and proactively design onboarding and onboarding into environments hybrid work.
Dr Helen Hughes is a Registered Occupational Psychologist and Associate Professor at the University of Leeds