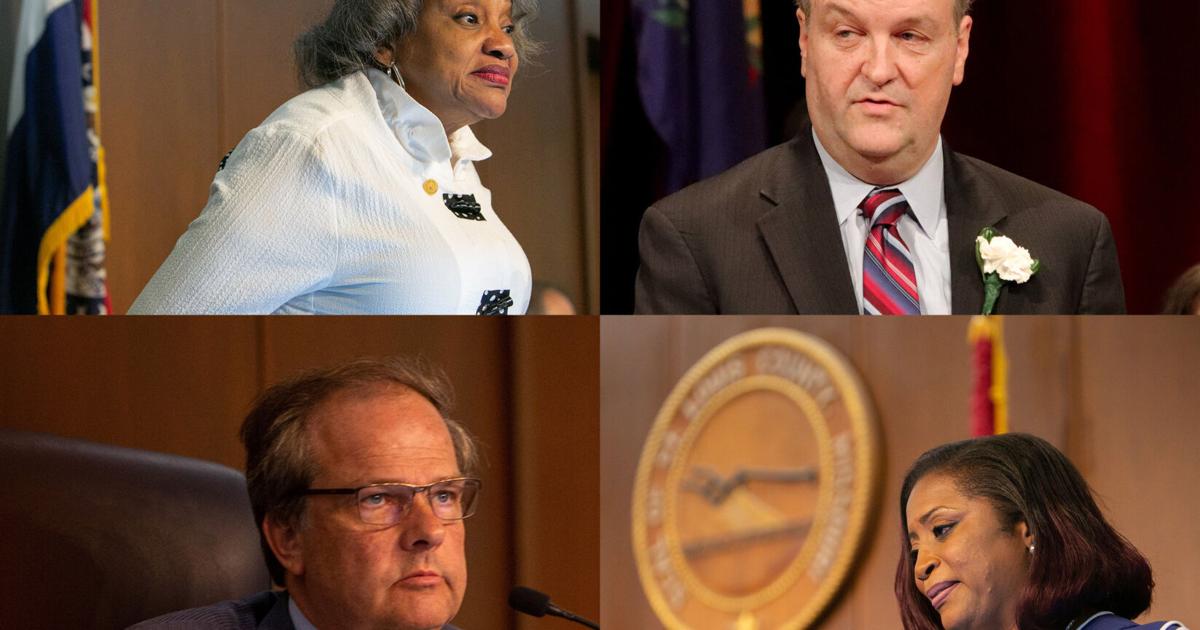 Why can't St. Louis County officials agree? Some say it's a lack of communication.
CLAYTON — For months, a bill has lingered on the St. Louis County Council's agenda, proposing the use of $1 million in federal pandemic assistance for a new mobile health clinic.
The only problem: the Department of Public Health says it doesn't want it.
"Bill 114, totaling $1,000,000, is not a request made by DPH and the department does not support this bill," a department manager wrote to the board. .
This is just one example of a problem that nearly all county government leaders agree exists: they struggle to communicate. Democratic County Executive Sam Page stepped on toes by failing to invite council members to press conferences in their own districts. The health department says the council did not update them on the expenses. And board members have complained about a lack of collaboration among themselves.
Some of this is just politics – officials are looking for an advantage. But sometimes the lack of communication gets in the way of good government, said Democratic Councilwoman Shalonda Webb, whose district includes Florissant and much of North County.
"It's very important that we as leaders, in order to be effective in our government, communicate with each other," Webb said. "The left hand should know what the right hand is doing and the right hand should know what the left is going through. It's the only way for us to be effective leaders.
Page and council members agree, but communication issues continually crop up.
Republican Councilman Mark Harder said Page did not invite him to a press conference Wednesday about a historic school for black children that the county parks department is restoring in his district. Harder, whose district stretches from Ballwin in the south to Chesterfield in the north, said he had worked on the project since 2016 and was not informed of the event until 5 p.m. Tuesday. The councilman decided to go even though he hadn't been invited, and he talked about the works for a few moments at the end of Page's talk.
Harder was angry with Page: "At least make the offer," he said. "Say, 'We'd be happy to have you.' Give a few days' notice. A simple gesture.
Page said he didn't realize Harder was attached to the project.
"I invited him to step on the podium. It wasn't so bad if he cared that much," Page said. "But I wasn't going to go out of my way to invite him to something that I didn't know he had anything to do with."
Democratic Councilwoman Rita Days also complained about not being invited to a Page news conference in her district, which runs from Interstate 270 in the north to University City in the south. In early September, Page announced a major construction project to improve a killer stretch of Airport Road in the councilwoman's district. Days reprimanded Page at the following county council meeting.
"At the very least, I should have known this was happening in my district," Days told the Post-Dispatch.
Page said he communicated with Days' office via email about the project, but decided not to escalate the row at the board meeting.
Tension is also common among council members.
Webb sent his own letter to Republican Councilman Ernie Trakas asking if he was interested in collaborating on a proposal to demolish abandoned buildings in unincorporated St. Louis County. Webb wrote that she had not heard of him. Trakas claimed his office communicated to Webb's office that he did not want to associate with her.
The health department problem came to a head two weeks ago. Webb had offered to spend money on a mobile health clinic; the legislation had been on the books since April. Department officials insisted it was an inefficient and costly way to serve patients.
Webb said health department officials are aware of his bill. But in a letter sent to council members on September 23, the public health department's acting co-director, Kate Donaldson, said the department had never asked for money for this purpose and asked the council to withdraw the agenda bill.
Webb said she received the letter and plans to offer to spend the federal money on other public health initiatives.
"No one should be caught off guard by an initiative I'm working on," Webb said.
She thinks the board can do better.
"I would like to see more communication in the future," Webb said. "As leaders, we have to encourage it and then be examples of it."