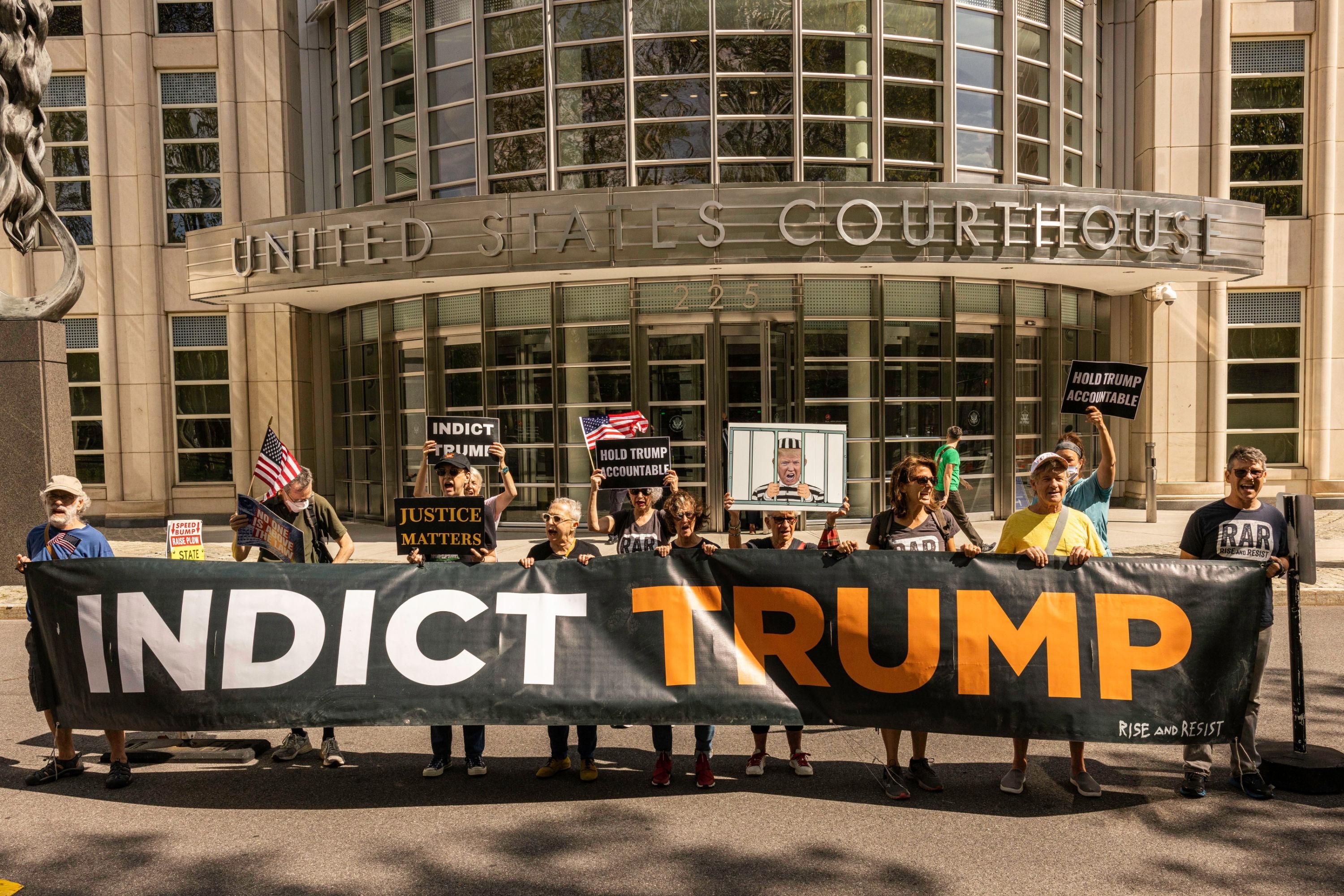 'You can't have your cake and eat it,' special master tells Trump lawyer blocking declassification requests
The 'special master' tasked with reviewing documents seized from Donald Trump's Mar-a-Lago estate has pushed back against attempts by the former president's legal team to avoid formally dealing with his declassification requests in court tuesday.
The exchange took place during Judge Raymond Dearie's first meeting with Trump lawyers and US Department of Justice (DOJ) prosecutors at a federal courthouse in Brooklyn.
Lawyers for the ex-president had sought a special master, and Trump-appointed, Florida-based U.S. District Judge Aileen Cannon granted the request — instructing Dearie to verify documents that federal agents took from the Florida estate last month while executing a search warrant.
While around 100 of the 11,000 documents are marked as classified, Trump has publicly claimed – without providing any evidence – that he has declassified all of these documents.
Summarizing key takeaways from the hearing, watchdog Citizens for Responsibility and Ethics in Washington (CREW) tweeted that the special master "just said that if Trump's lawyers don't officially contradict whether the documents Trump took are classified, then Dearie will side with the DOJ."
Citing separate court documents filed by his lawyers Monday evening and Tuesday, The New York Times Explain that Trump "wants it both ways: He argues that he and his legal team shouldn't have to say in court proceedings, where they could face perjury charges or other penalties, that he declassified the documents, while telling the courts they should not take the Justice Department's word that they remain classified."
Trump's lawyers wrote on Monday that they did not want Dearie to force their client to "fully and specifically disclose a defense on the merits of any subsequent indictment without such a requirement being evident in the court order." district court".
The Washington Post Noted that line from Monday's filing was "a remarkable statement that at least acknowledges the possibility that the former president or his aides could face criminal charges."
During Tuesday's hearing, Dearie pressed "Trump's lawyers on what he's supposed to do," noting that "the government has provided 'prima facie evidence' of the classification, i.e. markings," reported Law and crime editor-in-chief Adam Klasfeld.
Dearie told Trusty, "As far as I'm concerned, it's over."
Trusty argued to the judge that his team should not have to disclose declassification defenses at this time.
According to Klasfeld and Policy Josh Gerstein, senior legal affairs reporter, Dearie replied that "you can't have your cake and eat it."
The hearing took place despite the DOJ's ongoing appeal of Cannon's decision, in particular its decision on which documents Dearie should review and its determination that the department cannot use classified documents for its criminal investigation into Trump until the review is complete.
The daily beast Underline that "whether any of the documents seized from Trump's home are classified may ultimately be a secondary issue. The Justice Department emphasized that the three potential crimes it is investigating do not turn on whether whether the material held at Mar-a-Lago has been classified."